Original Vintage Orchestra
This classy 17 piece orchestra presents the best music of the Swing era – great songs from Bing Crosby to Duke Ellington in the style of 1920s Hot Swing, but what makes this band doubly unique is how they perform big band arrangements of modern hits in the same style, including songs such as Counting Stars by One Republic, Get Lucky by Pharrell Williams and Amy Winehouse's Valerie.
Charismatic Bandleader and great musician Petr Kroutil is the creator of this project, plus lead vocalist and accomplished musician, and multi-lingual Host entertaining guests in both Czech and English.
Our talented performers include: "Miss Rosie", The Hot Sisters and from Los Angeles, unforgettable solo star Chuck Wansley, singer, dancer, performer of Broadway musicals throughout America.
Contact us, please for booking. You will be delighted to have this orchestra in your Music Festival, Concert or any kind of Function.

Petr Kroutil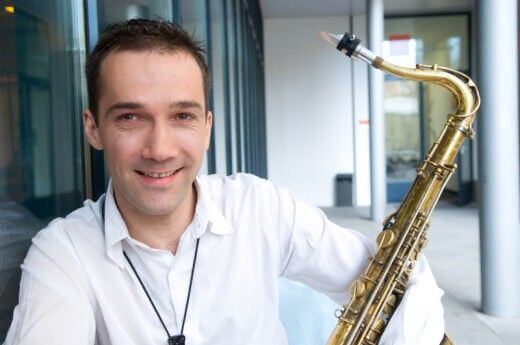 As a leading saxophonist, clarinettist, singer and entertainer, it is safe to say that Petr KROUTIL is one of the most distinctive and charismatic swing musicians in the Czech Republic.
After graduating from the Conservatory of Jaroslav Jezek and studying at the prestigious Berklee College Of Music in Boston, Petr travelled to Nepal to spend two years studying and practicing the Indian Bamboo Flute at Kathmandu University.
In the Czech Republic and even abroad, Peter is widely known as Danny Smiřický of the  TV series The Swell Season by Josef Skvorecky.
For over 4 years, Kroutil has starred in the original Prague Syncopated Orchestra alongside the renowned Ondrej Havelka.
He later co-founded the big band Prague Swing Orchestra, where he worked and performed for seven years as a soloist.
Peter is also the only Czech musician who played at the London 2012 Olympic opening ceremony.
In 2011 Peter founded his pop jazz quintet Petr Kroutil Orchestra and in 2016 started ambitious big band playing in style of 20´s. He works in this big band as a bandleader, soloist, singer and arranger.